Hidden Object games for Windows
Hidden object games, commonly abbreviated as HOGs, has proven the most popular casual games lately. And it's not surprising because the objective of the hit i-spy titles is not to find hidden objects, but to involve a player in the story, thus making him its active participant, a character in the novel unfolded before him. Such seek-and-find games often feature a variety of mini-games and brain-teasers to solve, that is why they are commonly called hidden object puzzle adventure games (HOPAs).
With thrilling detective storyline, top HOPA games usually receive sequels and even evolve into game series, such as Mystery Case Files, Grim Tales, Midnight Mysteries, Dark Tales, Hidden Expedition or Mystery Trackers. Here at Absolutist we try to keep you updated with the hottest releases and publish game reviews of the most outstanding HOGs, so that you could always be the first to download best hidden object games for PC free of charge. Almost all hide-and-seek games on our site have 1-hour trial for you to ensure that the title is worth buying. Otherwise you may visit our web-games section and play hidden object games free online.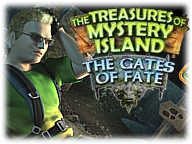 The Treasures of Mystery Island 2
Alex and Lisa were sent back in time to different decades after the intervention of a mischievous shaman. Help Lisa find the magic tiles, that can return her home, and leave clues for Alex to find the girl!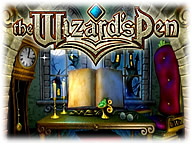 The Wizard's Pen (TM)
The Wizard has vanished, and only you can find him in this spellbinding hidden-object adventure! It's a unique new twist on the seek-and-find genre that you've gotta try!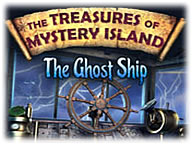 Treasures of Mystery Island:
Ghost Ship
Track down a friend who has disappeared on a tropical island! As you explore lost temples, devastated coastlines, and abandoned villages, you'll uncover a 60-year-old mystery surrounding a shaman and his efforts to save his island!

Time Mysteries:
Inheritance
Vivien Ambrose has just discovered how to travel through time! After an evil time traveler kidnaps her father, it's up to Vivien to follow them to the past. Using a mysterious crystal ball, visit the past, and meet Vivien's ancestors!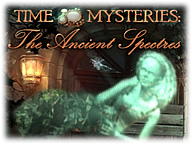 Time Mysteries:
The Ancient Spectres
Go on an incredible adventure and change events in the past to solve an incredible mystery!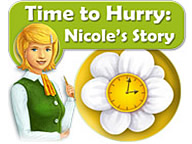 Time to Hurry:
Nicole's Story
Help Nicole find her vocation and climb up the corporate ladder in this fun Time Management game, Time to Hurry: Nicole's Story! Work in various shops throughout the city as you help this fresh college graduate find her calling in life.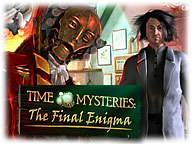 Time Mysteries:
The Final Enigma
Help Esther rise to the challenge and save the world from catastrophe in Time Mysteries: The Final Enigma!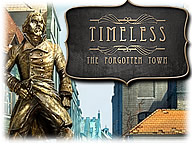 Timeless:
The Forgotten Town
Explore the mysterious city and solve its riddles to uncover the roots of a terrible disaster. Free yourself from the timeless trap as quickly as you can since the Chronometron is counting off the seconds of your life.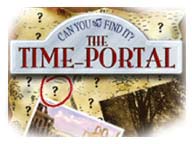 Time Portal
The Time Portal is a game that can be played by you alone or your whole family together. Just sit down and relax. Concentrate on the pictures. Everyone can play and enjoy the quest for the hidden clues.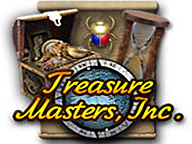 Treasure Masters, Inc.
Join Gordon Jones on a globetrotting adventure to unearth an amazing artifact from the bowels of a lost ship. Along the way, you'll become wrapped up in a captivating story, learn about the world of treasure hunters and enjoy the spectacular artwork!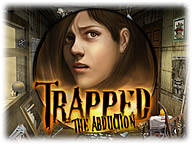 Trapped The Abduction
A regular day turns into a nightmare for a young woman who awakens locked in the back of a truck not knowing what happened and who she is. Help the woman escape from her tormentor!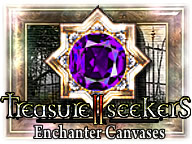 Treasure Seekers:
The Enchanted Canvases
Help Nelly find and save her brother from a mysterious Romanian castle! Dive into the castle's magical pictures and discover the secrets of the Philosophers' Stone.