Match 3 games for MAC OS
Over a decade ago Bejewelled burst gamers world with the brand-new jewel match concept. Since that time the popularity of color matching games grew continuously, and new trends within the genre have emerged. Rise of Atlantis or Call of Ages are the examples of Match 3 games in which your objective is to drop down the parts of an artifact you are to collect. Jewel Quest games feature additional hidden object levels. The Lost Kingdom Prophecy displays the three major tile-matching mechanics: groups, chains and swapper. Finally, there are collapse games like Cubis, which can be called match three in 3D.
Marble popper games stand alone the general jewel sliding puzzles. These are not only the derivatives of hit Zuma and Luxor game series, but also numerous bubble shooter arcades. These family-friendly action games are what you need to forget about daily routine. You can download new match 3 games enjoy them for one hour absolutely free. Use this try before you buy option to order only the titles worth your attention. Some of the puzzles also have web-versions, thus you may play match 3 games online as long as you want.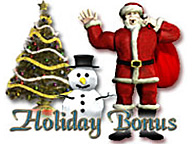 Holiday Bonus
It's a Holiday Bonus that the whole family will love! Make the right moves and your power gauge will build a bigger, brighter bonus blowout! This one's gonna snowball...so don't miss the festive fun!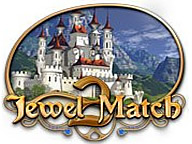 Jewel Match 2
Enter a mesmerizing match-three wonderland! Line up dazzling jewels and eliminate tiles across 150 levels of casual fun as you build majestic castles and enjoy spellbinding visuals and audio.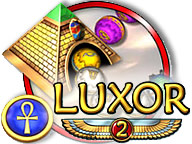 Luxor 2
Luxor 2 takes you on a beautiful voyage through the land of ancient Egypt. Play 88 all-new, gorgeously rendered levels of brilliantly displayed crisp and stunning graphics set amongst the pyramids and temples of ancient Egypt.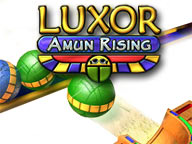 Luxor:
Amun Rising
Glory and adventure await as you return to save ancient Egypt from certain doom! In the next episode of the smash Luxor series, you must defeat the princes of Megiddo before they overthrow the pharaoh and plunge the two lands into chaos!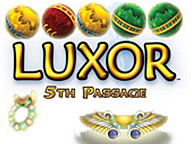 Luxor:
5th Passage
Get ready to wield your winged-scarab shooter in Luxor: 5th Passage, an exciting and fantastic Marble Popper game! Fire colored balls into the advancing chain of colored spheres to eliminate them before they destroy the pyramids.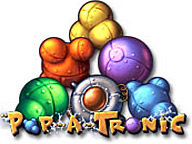 Pop-A-Tronic
It's a bubble popping bonanza! As bubbles fill the screen you'll have to pop them out of your way! A fast paced, arcade puzzler, Pop-A-Tronic is packed with explosive challenges, power ups, game modes, cool tunes and more!

Rainbow Web 2
Rainbow Web 2 welcomes you again to the wonderful world of the Rainbow Kingdom! The Royal Palace is still in the grip of the Spider. So, a difficult journey lies ahead. What was begun must be finished!