New online games for kids to play are here. Absolutist strives to offer fun family-friendly games. Thus on our web-site parents may find games for kids free. If you want your children to prepare for school, pick word games and online puzzles. Along with Math online games, these web learning games help children to develop logic and memory skills. Hidden object games online offer to find hidden numbers or spot the difference between two hidden scenes. Thus online finding games and memory games lets kids to improve the power of observation.
Though online games for children are a not only educational. On this page you can choose there are many family-friendly puzzles kids arcades. Play online bubble games or mahjong and sudoku online. Discover colorful time management and action games for kids. Solve picturesque jigsaw puzzles online or enjoy match 3 games. Fun platformars and arcade games for kids are available online. Here you can also download fun games for kids free.
Steal the Meal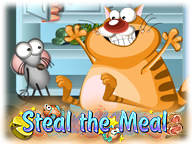 Help the spy mice!
Play Online
Xonicz!


Enjoy addictive remake of a classic game!
Play Online
Frescoz!


Frescos - is a new puzzle multiplayer game.
Play Online
Mahjongg Candy Cane


Play a board game filled with Christmas cheer!
Play Online
Cover Orange: Journey Pirates


Save your hero from a tropical storm
Play Online
Cover Orange Journey Knights

Safeguard the orange in the Middle Ages
Play Online
Bubble Number


Play Bubble Shooter with a twist!
Play Online
I Am Flying to the Moon

Build a rocket and reach the outer space in a fun avoider
Play Online
Farmington Tales


Grow the perfect crop!
Play Online
Wellmahjong

Play for free first multiplayer classic online Mahjong game
Play Online
Fishdom: Frosty Splash


Enjoy winter holidays and an amazing match-three game.
Play Online
Big Blocks Battle


Shoot the blocks with a cannon ball.
Play Online