Angry Birds Go! - Casual games reviews.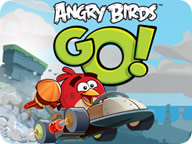 From the internationally famous Angry Birds franchise comes a new hit game to the Go series with a holiday theme!
"Angry Birds Go!" is back and it's better than ever!
Angry Birds is today what Mario Brothers was twenty-five years ago: a well-established video game franchise that everyone knows and has the brand approval to skyrocket into new video game genres.
Just as Mario went into Mario Kart, Angry Birds has started the "Angry Birds Go!" game series, and boy is it exciting!
Angry Birds Go! brings you the characters and conflict from the popular angry birds series, but brings it to a racing arena of fun.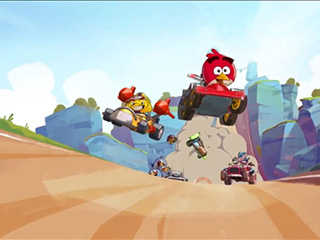 It's the first 3d series of the Angry Birds franchise and allows you to race as either the birds or the pigs. It's not just a racing game, either.
It brings the cute 'violence' along and allows you to crash other drivers off of the track.
And, when you do, you can earn special powers to let you do other cool tricks as well.
It's also linked to the cartoon through ToonsTV, so if you're a fan of the animated show, then this game is going to be right down your alley.
The game is customizable and there are a bunch of different tracks including racetracks, stunt roads, air courses and off-road races with different game modes such as Race, Time Boom, Fruit Splat, Champion Chase and Mega Match, which will be sure to bring you entertainment for hours.
This game is truly deserving of the Angry Birds name. Yes, it's that good! It will be exciting to see what other games come out of this series.
As I mentioned, there is already a holiday version out, so it will be exciting to see what else comes out this year. Download today!