Would you manage to escape the deserted island?

Download Escape Rosecliff Island for Windows.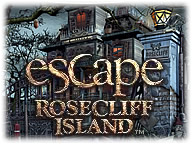 Today there is a wide range of different game genres. One of the most beloved among the players is hidden objects. There are a lot games of similar genre. Welcome a new release — Escape Rosecliff Island. This game deserves a special attention as it stands out against a background of others.
Escape Rosecliff Island is an exciting seek and find game, produced by SpinTop Games developer. This game combines several games: hidden object and mini-games.
Imagine you were left on a deserted island after a shipwreck...What would you do? Whether you would manage to keep patient or the fear of being there alone would paralyze you? You can find answers for these questions immediately after launching the game! Seek and find hidden objects in order to get enough clues and escape!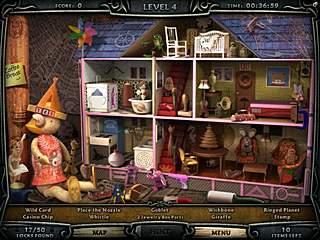 In this game you can choose the locations for examining by yourself. You are to decide whether to go into a damp cave or neglected house. Every location has several hidden В«LocksВ». If you want to reveal the Mystery Bonus game, you should find 25 locks. If you find 50 locks, you will get an access to the unlimited version. But some may find playing the limited version even better then unlimited. As it encourages the players to react and achieve the results even faster. Finding an item gives you additional scores. But don't click too many times without finding an item. As it results in a score penalty.
After having found all the items from several locations, you will be given a puzzle to solve, such as: matching the same tiles, completing the pictures by rotating its different parts or finding the particular words hidden among the mix of letters.. After passing a level, you will get special clues, which will help you to escape the island. These clues include: compass, patrol...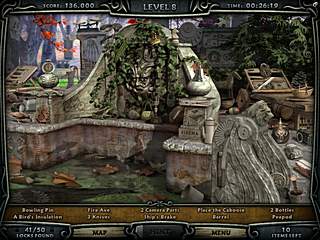 The mysterious music will keep you excited during all the game. You will also be amazed with the cute graphics, which resembles the Mystery Case games. In general there are a lot of locations, which resemble Mystery P.I. But in comparison Escape Rosecliff Island is much better. What you will like, is that during playing the game you will feel being really in an abandoned place, where there are no people except you.
One of the main features of the game is that it has no plot and no main hero. It was made so in order that players could enjoy the game. It tells that when a game is of high quality, it does not need any additions.
Escape Rosecliff Island is not simply a hidden object game. It is a game that will teach you how to behave in the unforeseeable situations and not to get lost!

Download Escape Rosecliff Island for Windows.