Farm Frenzy: Ancient Rome - manage your own farm

Download Farm Frenzy: Ancient Rome for Windows.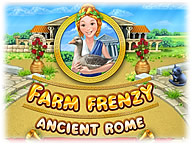 Yes, yes, yes! That is exactly what you think that is. Another Farm Frenzy is released. Not too much has changed in this yet another sequel, but the fans must have got used to that.
But, as you can see, there is at least a new setting in Farm Frenzy: Ancient Rome.
Farming theme just can't leave the game under any circumstances. So, with that in mind, here is how you go into Rome. If you played the previous game, you know it was about fishing.
So the story tells you that one of the dolphins found an ancient book. The book is about a young girl named Scarlet (what a coincidence! Just like the game's main character.) from the ancient Rome. They have even more in common. The ancient Scarlet's hobby was... yes, farming.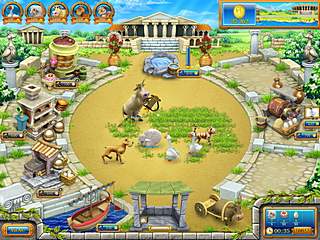 So that's how you end up farming in Rome. The book has several chapters to cover in the time-management levels with short story telling in between.
The gameplay though is pretty much the same as in the previous releases. But if you are here to play another Farm Frenzy game, it means you are ok with that.
But if you are not familiar with the game series somehow, I will make a short preview for you. You get water, plant grass, it grows, animals eat it, give eggs or other stuff, that can be used for the production of cookies, cakes and so on. New animals and equipment is available as you progress.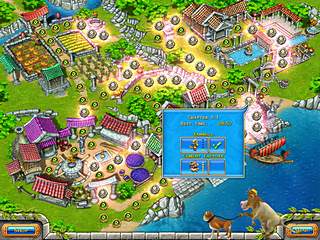 Every new level has a specific goal for you to achieve. In total, there are 90 levels for you to go through.
The bears whose job is to give you trouble in your multi-level farming didn't disappear and come every once in a while in this game. This time they look kind of barbarian in helmets.
That's about it. There isn't too much else to talk about. The game seems like same old game covered with a new setting. Even the setting doesn't seem new in some areas. Like, some of the machines looks just like those that you used in the games that relate to the later time periods.

Download Farm Frenzy: Ancient Rome for Windows.