Gardenscapes: Mansion Makeover - it's time to turn the house into a masterpiece!

Download Gardenscapes: Mansion Makeover for Windows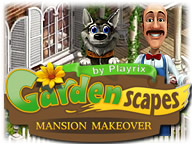 Gardenscapes: Mansion Makeover is like a friend you haven't seen in some time who has acquired a couple of new hobbies since you last met.
Those of us who have to daily go to this war of cleaning and washing dishes and other nice activities will understand the situation in Gardenscapes: Mansion Makeover right away.
All the work that you did in the previous release counts, but there is more to do now again.
The game is very positive and kind and the characters are very attractive. You can never win the war of house chores, but you can have victories over some battles.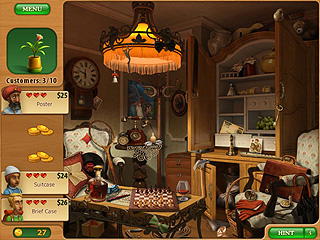 So having done all that increadible restoration of the garden in the first game, you really want to show off now before some guests.
But the spacious hall in the mansion is in quite questionable condition.
The room needs some repairing and organisation. The butler is for your service as before.
The graphics and annimations are top-notch. You have great sound effects too.
The game is very positive and kind. The characters are very attractive. Austin the butler and the pet dog who you get to name.
You can choose from timed mode or relaxed mode. What is going to be your main activity here is to find and sell objects from rooms to make money to invest in improvements.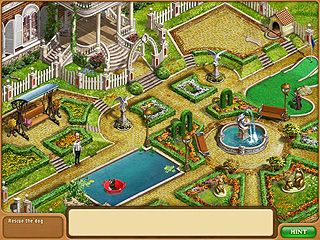 You can find different kinds of hint to use, question marks, camera and thermometer, each of which helps you in a different way.
The hidden object scenes are very easy on the eyes with items easy to find.
It is fun that the butler does whatever you ask him to do, like feeding and playing with your dog.
Overall, Gardenscapes: Mansion Makeover isn't really revolutionary.
But it's more of the same charming and downright fun gameplay that the first game offered.
The power-ups offer you a chance to make the game as easy as you'd like (or as difficult, if you ignore them).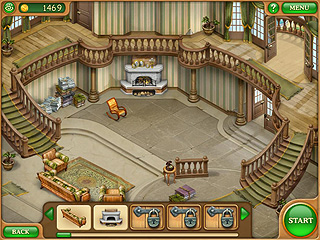 The customization options mean that no two players will really share the same experience when all is said and done.
Gardenscapes: Mansion Makeover is an incredibly solid and polished hidden object game that, while repetitive, offers a certain spark that just can't be defined.
If you enjoyed the first Gardenscapes title, or enjoy games like it, you definitely need to try this one out as well.
The game will make you smile with all the positive looks and interactions.

Download Gardenscapes: Mansion Makeover for Windows
Game Review from Gamemile