Legend of Talisman - try a new pyramid of Match-3 mechanics with physics-based gameplay!

Available on the AppStore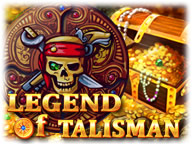 The legend goes that an old talisman will show the way to countless riches.
Join a brave seductive adventurer, collect four parts of the broken amulet and find the cave with pirate treasures.
That's the history behind Legend of Talisman, a matching logic puzzle for wide audience to enjoy.
It cost only $0.99 to download and with due skill and luck user unlock twice as much without spending a cent.
The game combines two different mechanics, puzzle mode being the primary one.
The playfield is a square grid with immovable stones, gems, cement blocks and 2 golden coins. Basically your task is to match the coins as you drag tiles to the left or to the right.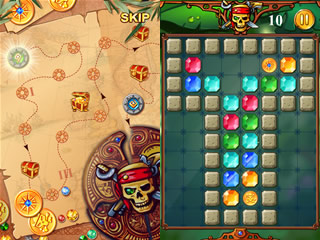 It is quite easy to complete if you keep in mind that same-colored gems in adjacent cells disappear.
Though if you manage to remove all the gems on the level, you receive a golden medal. Collect 27 of them, and another level pack will be yours totally free.
And that's where the true challenge and real fun starts, because the game always flings in something new.
Thus, as you progress, you will acquire new techniques and will learn to combine them to achieve the goal.
For example, a bomb blows only adjacent tiles, while dynamite removes all gems and cement blocks in a row or a column.
Teleports, horizontal and vertical lifts help to transfer various tiles through the level maze. In case you get stuck, you can use a hint or go on replaying the level as long as you want.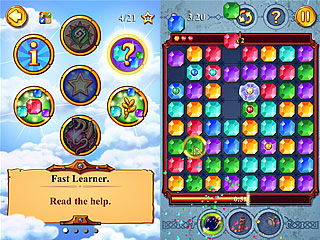 Each level pack also includes three arcade levels that diversify your gaming experience and let your boiling mind cold down.
It also another chance to earn additional score, hints and achievements. The objective is to collect enough inlaid gems within 90 seconds.
As in most match 3 games, you are awarded special jewels like lightning, extra time or color removal for T-matches, 5 in a row, etc.
Rechargeable bombs and dynamite power-ups turn up very helpful when the time is almost up. Blitz match 3 mode is also available as a daily spin.
It is a nice opportunity to get free hint with three attempts to achieve the goal.
On the whole your long treasure hunt will lead you through jungles and wild blaze, under the waterfall and up to the sky collecting various artifacts on the way.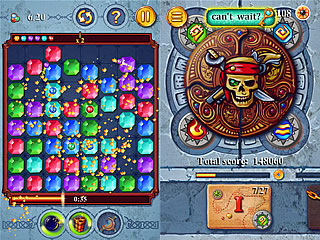 28 Game Center achievements are a powerful encouragement to replay particular levels and improve your results.
However with 120 puzzle and arcade levels and daily spins Legend of Talisman provides hours of exciting gameplay as it is.
It is a brain-teaser that both kids and adults will enjoy, while blitz match 3 modes help switch to a different game mechanics and challenge your skills.
It is a pick for those matching games fans who never miss a chance to play an add-free high-quality title.
And finally, this mobile game is a gulp of fresh air for adventure souls who love stories of bold pirates and immense treasures.

Available on the AppStore