Play an addictive game Lost Realms: Legacy of the Sun Princess!

Download Lost Realms: Legacy of the Sun Princess for Windows.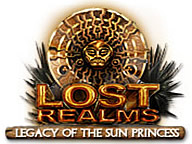 Lost Realms: Legacy of the Sun Princess is a hidden object game from Blue Lizard Games. The game takes you on an interesting journey through the game story as well as through some interesting features.
You are to follow the journey of two friends to Peru to solve the mystery of strange dreams that one of them has every once in a while.
The main characters of the game are the two girls. One of them is having weird dreams that finally make her go to Peru. Her friend joins her in this strange trip to don't-know-where and don't-know-who.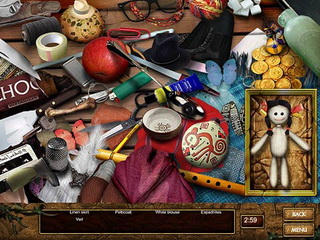 The girls soon begin finding different maps and meeting different characters, and the story rolls on giving you more and more ideas about what's going on.
As to the gameplay, there are some interesting features. For example, when you get a cluttered scene to search through, you can kinda get a little further than the edges of the picture by moving your cursor.
That makes it seem that you are actually there and you see things as you turn your head. It's cool, but to balance it, some of the pictures are either too dark or too blurry and you can't see some of the things that well.
You can play in one of the two modes - Adventure with a story events interrapting the game or Relaxed with no need to hurry.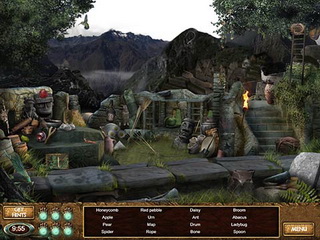 The search for the listed items is quite traditional. Some of them are easy to find (sometimes Ii would just click on items that don't belong and got some items off my list), some are not and you need hints.
The hint system is very interesting. You can get them as much as 6 or even more if you use up all of those. You get hints any time by going to one of three doors - Painting, Dolls, Pottery.
Each one of those doors represents a mini-game for you. The games are not typical and the ones you would expect. So I enjoyed an opportunity to leave a scene and go play one of those games. By the way you also get some small tasks to do in between the hidden object levels too.

Download Lost Realms: Legacy of the Sun Princess for Windows.