Maestro: Music of Death - must--play game!

Download Maestro: Music of Death for Windows.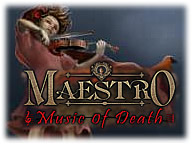 There are different genres in the casual games world. But there are also different kinds of games within one genre according to what any game has to offer.
Some games are just to fill in the blank while waiting for something worthy, while others are the ones you are waiting for to enjoy it from start to end. Maestro: Music of Death belongs to the kind of games you will play with lots of pleasure.
The story of the game is really intriguing. A terrible disease, that causes people's aging rapidly and death, break out in the city! All citizens are in despair and panic, because even little kids turn into old men and die immediately. So, you as a detective will come to quarantined city, investigate it and search for clues to find out the cause of such terrible epidemic! And maybe a little girl, trapped in the town, can help you reveal the truth and save the citizens in this outstanding hidden object puzzle adventure game!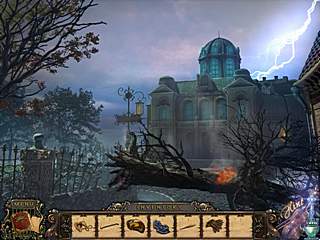 The game doesn't give away the whole story when you know what to expect. But not with Maestro: Music of Death, because here you are will be kept interested in what's going on till the end. The whole presentation of the game is just perfect creating such a great atmosphere. It is quite scary because of the animation and highly qualified drawings depicting the slightest details.
You can enjoy not only the images with such details as pores on a woman's face, but also you will be pleased with the voice acted dialogues. As to the scenes cluttered with stuff, they are not spoilers too. All the clutter is very related and belongs to the places where you find it.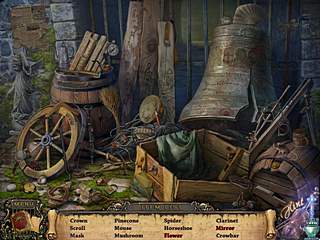 As to the gameplay, Maestro: Music of Death is a typical hidden object/adventure game. Those two main activities are balanced pretty good here. The hiden object levels are standarr. You are given a list of items to find with rechargable hint available for you. Some of the items are to be put together, like a burning candle.
The rest of the time you are going to wander around, meeting different characters and coming across all kinds of projects. That past of the game is not particularly easy even in the regular mode. But the hints work here as well, showing you where to go if you are lost. So, I'm sure you will enjoy it.
There are also a lot of mini-games. But they don't stand up as a separate part of the game, but rather get played unnoticed as part of you wandering and searching.
The game is wonderful and enjoyable to play in its every aspect.

Download Maestro: Music of Death for Windows.