Mystery Legends: The Phantom of the Opera Collector's Edition - an exciting hidden object game!

Download Mystery Legends: The Phantom of the Opera Collector's Edition for Windows.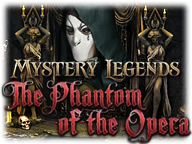 Mystery Legends: The Phantom of the Opera Collector's Edition is one of the games you have to play! I can assure you won't be disappointed!
As you could have already guessed, the game is based on "Phantom of the Opera" novel, written by Gaston Leroux and published in 1911. The events take place years after those described in the novel. Christine and Raoul are now enjoying their life together with their daughter Evelina.
But every night a gloomy ghost appears at the ruins of the famous opera house and wades in its abandoned halls, longing for his unrequited love! His love, passion and desire are still burning and they will keep to burn till he gets the object of his love. Suddenly, Christine's daughter gets involved into the situation from the past, that her mom escaped long ago.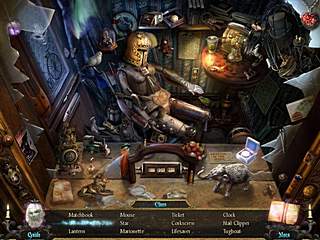 So, playing as Christine you will explore all halls of the abandoned building, discover its history and try to confront the man behind the mask to unlock the enigmas, hidden at this half-demolished edifice!
As for graphics I would say they are absolutely wonderful. It will be one of the first things you are going to notice, whether you've been into the genre before or this is your first hidden object game. All of the scenes are hand-drawn, some of them are performed in sepia, and some have animated details. The sounds are just as perfect. The music and narrator's voices match the graphics and create a really nice and amazing atmosphere. I would esteem game developers and designers for their excellent work!
The hidden object searches are quite challenging, but in a good way. The scenes are full of the items hidden quite thoroughly. Some of the items that are listed for you to find seem to be taken from an encyclopedia. But for those occasions you can see a silhouette of an item.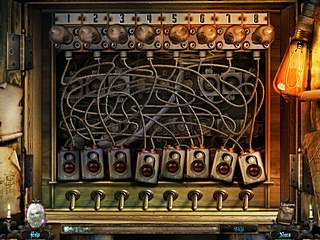 Except of the list of hidden objects, you will have a map, a journal, and a time-based hint. The hints are helpful not only during the searches, but also when you can't get what to do next. There are also the brain-teasers placed here and there along the way. They are not all innovative, but still good enough not to be skipped.
To summarize, the game is absolutely perfect for hidden object fans, especially if you prefer some intrigue. And it takes up to four hours to be completed, which is a pretty decent time. The game offers some extras after you get to the end of it. So, hurry up to escape from this dark mysterious place in Mystery Legends: the Phantom of the Opera, a fantastic hidden object puzzle adventure game!

Download Mystery Legends: The Phantom of the Opera Collector's Edition for Windows.