Samantha Swift and the Golden Touch

Download Samantha Swift and the Golden Touch for Windows.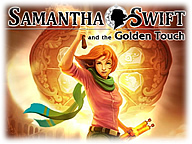 Samantha Swift and the Golden Touch involves you in an extraordinary adventure through the ancient cities. Solving puzzles and collecting hidden items will make you step forward to unlocking the true life of Alexander the Great! Travelling through different ancient cities you will not only enjoy playing the game, but also discover a lot about the way of life in those remote times.
As you could understand the game is of hidden objects genre. But it combines features of a quest game. And by the way there are a lot of mini-games, that you will enjoy for sure.
The game starts when Samantha's father got lost and she had to find him. But she was given an immediate task to find one of the most valued golden treasures — Alexander the Great's scroll. The mission was funded by Chadrin Geter. This artifact was intended to be taken to the Museum of Artifacts. When Samantha has performed the order, some masked men appeared and didn't permitted her to seek for any other artifacts. Further in one of the mini-games, Samantha collects the torn picture and understands that Alexander's scroll of wealth was once used to destroy his army. By the way a man from the picture resembles Chadrin, her customer. Samantha Swift understands what she has done. Turns out that Chadrin played her. And the men in the robes were on mission to stop the dangerous abuse of power. The world needs a hero. Assist it in stoping this threat. Her father's trail will have to wait. Samantha Swift promises that no one will be allowed to abuse this type of power.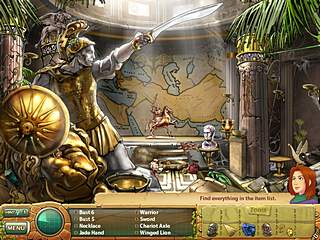 So Samantha's mission is to rescue Alexander's golden artifacts and to deliver them to the museums. But your main mission is to help her by finding all the items from the list. You also have some auxiliary tasks. They include solving puzzles such us to decide what bust to put on a particular pillar in order that they could go down and open the gates to the next level. Another adiitional task consists in investigating all the unlocked rooms in order to find all srcolls. Also you will need to put in place the missing parts of a picture which tells a story, construct a raft and many more.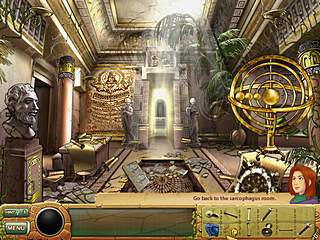 Be attentive while playing. Because there are blue items: they are hidden and you will need a tool to uncover them. Don't miss lightning bolts as they will help you to collect bonus hints. If you can't find an object, but want get it by yourself without taking a hint, click on any item in the list and see its shape in the scanner. But don't click too much. As rapid clicking will break the scanner. The most importnat item is the secret one. But it's not easy to find it. For this you should fulfil special actions. For example you are to get a thing from the chest. First of all you should find a spade and dig the chest from the earth. Then you will need to find a key, open it and take an item needed.
Amazing grahpics, amuzing background music and ambitious for adventures plot will not disturb you from your computer for several hours. The game is even more interesting then its previous part Samantha Swift and the Hidden Roses of Anthena. That's why don't hesitate and start playing!

Download Samantha Swift and the Golden Touch for Windows.