The Timebuilders: Pyramid Rising - bring hope to the people of Egypt!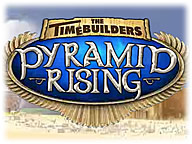 What are your associations when you hear the word Egypt? Might they be pyramids, pharaohs, gods, tombs, camels, scarabaeus? With The Timebuilders: Pyramid Rising you have a great opportunity to dive into unique world of Egypt mythology and raise an empire from the sands of time. If you liked Royal Envoy,you'll like this new building simulation from Wendigo Studios in which you play as a ancient Egypt`s greatest architect and construct either famous monuments or reconstruct various villages.
Just having started to play the game I was surprised to hear amazingly beautiful music! Frankly speaking I often turn off the music of the game I play if it don't fit the whole atmosphere. But music of The Timebuilders: Pyramid Rising with its perfect reflection of inimitable atmosphere of antiquity made me a fun of The Timebuilders: Pyramid Rising! I couldn't stop listening it! So, I can assure you won't regret to spend your time, playing this game!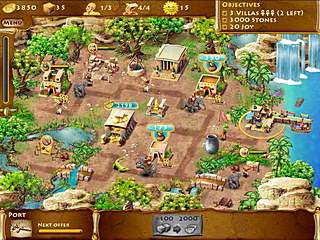 Though The Timebuilders: Pyramid Rising is a pretty standard time management game, there are some features I would like to pay your attention to. One of the features is 40 levels in one mode; levels are timed but it is really difficult to fail. Moreover, if you finish a level earlier than time finishes, you will be rewarded with a golden scarab. Each such reward let a new part of your city to be built in specially original way. Don't miss a chance to make your city unique and thus best ever!
As in all time management games you will have different goals at each level: to build houses, huts, get stones out of the way, and have negotiations with bandits or traders. As for the buildings there are only three types of them and they don't look like very different. By the way, the amount of houses you can build is limited at every level. So you won't be able to make your rich fantasy come true a lot. Your villages will be quite standard at each level.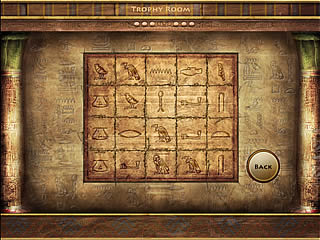 After completing the village at each level, a house will be added to your city. Thus, each level of the game is a new house in your city!
There is also a market where you can change stones into gold and than use in different ways – to pay workers for their job or buy inventory for updating your buildings or workers speed. And you can hire two types or workers in The Timebuilders: Pyramid Rising: those who will have negotiations at market and those, who will build and update houses in the village.
In spite of being very similar to Royal Envoy, the Timebuilders with its amazing atmosphere of ancient Egypt, its beautiful music and graphics can be named as one of the most intriguing time management games, I have ever played.
So, will you be able to rebuild the country and bring hope to the people of Egypt in The Timebuilders: Pyramid Rising, a fun time management game?