World Class Casino - Casual games reviews.

Play World Class Casino free online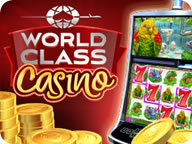 For the fan of casino games that doesn't want to make a trip to Los Vegas comes a new opportunity to enjoy the thrills of gambling with the safety net of being completely free and the comfort of being at home in World Class Casino Slots Poker.
Brought to you by Masque Publishing, the creators of the popular games, World Series of Poker Deluxe and World Class Poker, this new game tops them all!
Casino games you can play include mechanical or video Slot Machines, Texas Hold 'Em, Omaha, 7 Card Stud, and 5 Card Draw Poker.
It's really a great mix of games.
The poker games are pretty doggone realistic with their artificial intelligence. The art in the casino is well done as well.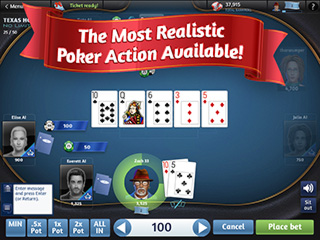 It captures the cheap feel that real casinos have without giving the game itself the cheapness that it would have in real life.
Definitely a game to check out! The download is free, but there are purchasable upgrades available in the game.
There are up to six free scratching tickets available per day and if you play daily, there are free coins for you to earn.
There's an eccentric little gift shop and little bonuses you can earn along the way.
Progressive jackpots keep growing along the way, which adds a whole new intense element of anticipation to the game.

Play World Class Casino free online