Kids games for Windows
Have you already come across the term "edutatement games"? These are most efficient educational games because they combine entertainment and learning. On our site you will find an immense collection of fun kids games to download free. A great variety of brain-teasers include kids Math games and classic board games like sudoku, mahjong and jigsaw games. Numeric puzzles and word games are very helpful to develop logic, basic Math skills and spelling. They are highly recommended by early childhood educators to prepare your kids for school.
However, in this section we have assembled not only kids learning games, but also family-friendly puzzle games and arcades with no restrictions on age. Cute animals, famous cartoon characters, interactive mini-games and polished graphics are characteristic of PC games designed for children. Match 3 puzzles, collapse and bubble arcades are common skill games for toddlers due to vibrant colors and clear objective. Download and play kids games together with your little ones, for it is the most pleasant pastime.

The Fool
Help The Fool become a hero and save the beautiful princess Catherine from the jaws of a terrible dragon! Travel across the kingdom and explore different locations as you set off an epic journey!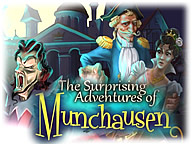 The Surprising Adventures of Munchausen
With the light and prosperity of his kingdom gone, the king has no choice but to marry his daughter to an unknown stranger!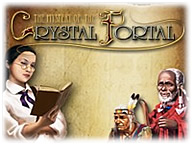 The Mystery of the Crystal Portal
Embark on a brain-bending adventure that's full of unique hidden object fun! Join Nicole as she searches the globe on an eye-popping quest to find her father and discover the truth behind the mysterious Crystal Portal!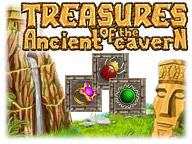 Treasures of the Ancient Cavern
It is time for Treasures! Treasures of the Ancient Cavern is a tale of fantasy, adventure and ancient magic that challenges players to cross the equator and follow in the footsteps of the Incas to restore artifacts and learn the magic.

Trial of the Gods:
Ariadne's Journey
The saga of Princess Ariadne continues! Prince Theseus has been captured by cruel Amazons and it's up to you to help Ariadne on her dangerous and exciting journey to save her beloved!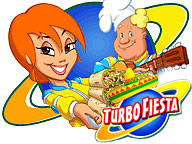 Turbo Fiesta
Rebecca and Robert are taking their fast food empire to totally new heights! Turbo Fiesta proves that there's no place these two can't go to serve up a tasty food! An astronomical and gastronomical adventure, Turbo Fiesta is truly out of this world!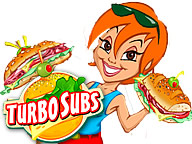 Turbo Subs
Fans of fast-action time management games are about to embark on a tasty new venture...this time in New York City! With loads of upgrades, secret sauces and more, Turbo Subs is a tasty treat for all!

Virtual Farm 2
Raise bumper crops and then sell them for a profit in Virtual Farm 2! Cheese, ice cream, cakes and more are in demand at the market. Do you have what it takes to fill those orders and become the top farmer in town?