Absolutist has announced the launch of free-to-play adventure game Hidden Objects: Twilight Town on Google Play.
Absolutist has announced the global launch of Hidden Objects: Twilight Town on Google Play. In this free-to-play adventure a player suddenly find himself involved in the murder mystery which proves only an episode in the chain of strange events happening around the city. Delving deeper into the resident's' dark secrets, you are going to uncover something much more unbelievable about your new home, your legacy and destination.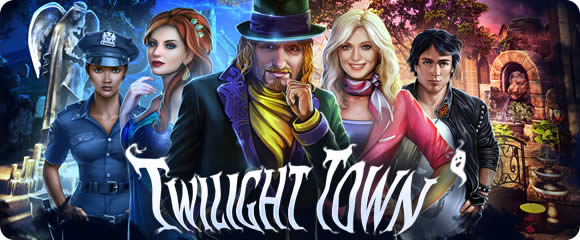 Twilight Town is the third large-scale f2p project launched by Absolutist, each being targeted to a specific audience. This time the company decided to experiment with genre mix by introducing some features of a simulation game to the classic hidden object gameplay. Thus, in the course of the investigation, players explore hidden object scenes and collect artifacts which they can share with friends. But alongside with completing such seek-and-find tasks, they can engage in a variety of additional activities that reveal the second gameplay layer and requires some strategy skills.
The highly detailed interactive game map appears the stage where story unfolds, and turns up a mystery box, full of additional activities and easter eggs for curious players. First of all it features two types of locations -- hidden object scenes and mini-games. These include Match 3, word puzzles, pachinko and slots popular among casual players, but also a bank and a stock market characteristic business simulators. There are also transport nodes and warehouses, so that a player can get involved in cargo delivery and even control traffic to optimize it. Such elaborate game economy maintains the challenge and gives more options to display one's skills and entertain.
All in all, Twilight Town is a vast virtual world, with something always happening around. It depends upon users' in-game behavior, and the taken decisions reflects upon their reputation, crime rate, resource costs and more. It's a casual game which offers multiple opportunities to progress and tailored to different gamers' tastes.
The web-version of Hidden Objects: Twilight Town is now available as beta in Facebook and Odnoklassniki networks. The iOS released is scheduled for this fall.
Official site: twilighttowngame.com
Download: https://play.google.com/store/apps/details?id=com.absolutist.twilighttown
Video preview: https://www.youtube.com/watch?v=XwMwLfLWjr0
About Absolutist Ltd.:
Absolutist has been established in 2000 and specializes in developing games for PC, Mac and iPhone/iPad, as well as Flash multiplayer online games and social games (for such social networking sites as Facebook, Vkontakte, etc.) The company has developed over 100 C++ titles to date and about 150 Flash titles. Absolutist operates a broad casual games network, the largest sites being Absolutist.com and Wellgames.com. The unique feature of all its brand titles is the game engine that allows to port the games to different platforms without any difficulties.
Contact:
Tatyana Garat
Business Development Director
53, XXII Partsyezda St.
Dniepropetrovsk, Ukraine, 49000
Phone: +38 056 770 14 73
Fax: 38 0562 34 10 28