Play an addicting game Amazing Adventures The Caribbean Secret!

Download Amazing Adventures The Caribbean Secret for Windows.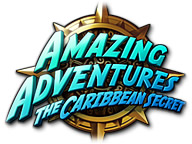 The latest release of Amazing Secrets is of hidden object style. The new unbelievable adventure will take you to the heart and surroundings of Caribbean! This game will give you an opportunity to get into the jungle, under the ocean and other places without turning off the computer.
The game plot is concentrated on the ship loaded with gold. It was lost somewhere in the Carribean. And thus your goal is to find it under the guidance of a museum. The locals reffer to this lost as to "Carribean Secret". And it is you who should uncover it!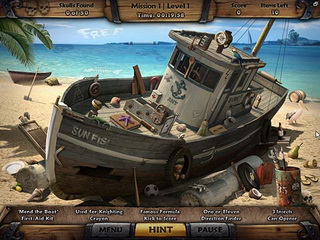 The structure of the game is very logic and convenient. First of all, there are 3 modes: the main one, unlimited seek and find and match three bonus game. The last two can be opened only after you will found 50 skulls. There are 25 locations and thus 25 levels. Each level is made up of a hidden object and puzlle games. In the HOG part, you should look for 10 hidden items and 2 skulls. Among such items are 2 which differ from others, so called "special objects". There is an item which has no direct name. For example: "inspector's tool" is a maginifying glass. In order to pick up a second "special object", you should find 2 items and make some successive actions. For example, you are to find and open a lock. For this you should find a key, than a lock and open it. After a HOG part, there will be a puzzle. Among them are: match three mini-games, swaping the tiles to complete the picture, finding differences between 2 pictures and so on.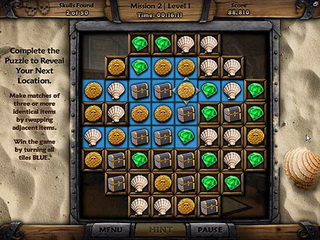 After a level is passed, a journal appears. It is the informative part of the game. In the journal, you can find an interesting information. For example, you can learn the age of the reefs, names of ships that Columbus used while discovering America, predominant official languages in the Caribbean and much more.
The game Amazing Adventures The Caribbean Secret is a particulary perfect game. It's not too complicated as well as not too easy. The structure is convenient. Moreover, the graphics provides a good seeing of the objects. You should not strain your eyes in order to find it.

Download Amazing Adventures The Caribbean Secret for Windows.