Candy Crush Soda Saga - Casual games reviews.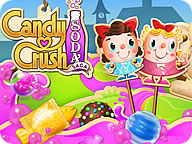 Candy Crush Soda Saga is a new release of the Candy Crush title.
Those who try to obstain of sugar in different packaged forms will either see it as a way to vertually treat yourself to some forbidden fruit (admit you want it sometimes) or as a temptaition to go ahead and eat that candy for real after playing with it for so long.
The game is very bright, joyful and Willy Wonka kind of magical.
There is no real character or much of a story in there (Kimmy is looking for Tiffi), but it is a fun candy land.
You get to play with chocolates, jelly beans, sodas, and other sorts of candy and sweets to make some progress in this match-three game.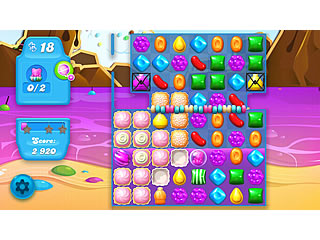 You need to be familiar with how each candy or soda works to get the best results possible.
You will need to know how to set the candy bears free and release purple soda, use honey, create coloring candy, and make a Swedish Fish.
The game itself is free, but there are some goodies that you can get if you want to.
You can also enjoy it with your friends through Facebook, where you can compare the scores.
The game looks very tasty. It is probably fun for kids and adults alike.