Catch Them All - Casual games reviews.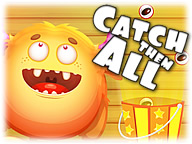 Simplicity seems to be one of the major factors when it comes to the the iPhone games.
It should be fun, it should be bright, and it should be simple.
Well that happens to be the description of Catch Them All.
Oh there is something else that is important for a great game - attractive characters. Catch Them All has got it too!
There isn't much of the story to tell. You have got a monster to feed.
Yes, and you need to collect all kinds of food for him - fruit and cookies.
Playing around with food and watching (and listening) the monster eat all of it is a great way to prepare for another meal.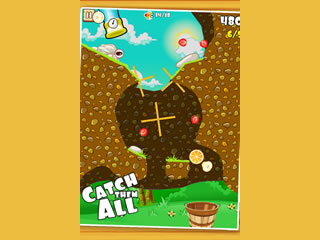 Maybe parents can use it for the kids who are never hungry.
The game's graphics are warm and colorful. The sounds match the action that's going on on the screen.
Catch Them All There are two worlds to explore. The game is based on physics.
You need to understand the possible trajectory of the food falling down and catch it with your bucket.
The game is not just about catching but also doing it with quite high speed avoiding the obstacles.
Sometimes you need to be careful and not hit with dangerous things falling on you instead of food.
The game is full of extras for you to unlock as you proceed with the new challenges.