Enjoy playing the game Cate West: The Velvet Keys

Download Cate West: The Velvet Keys for Windows.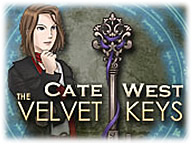 Cate West: The Velvet Keys is an unusual game. Why? Because unlike others, its music and graphics initiate the crime scenes and make you feel like you are a participant of the events. Personally I was amazed by the moving music. It seemed to be full of sorrow and distress. The music specially suits to the plot of the game. As you are to help the main hero Cate reveal the mysterious crimes and free the souls of victims. Cate's mysterious adventure starts from the moment when her father Wesley Carr, man behind the Vanishing Files, has escaped. There is even no trace or clue for finding him. But she decides to use her long-forgotten supernatural powers and hopes that she will be able to track her father down. At the begining Cate even does not imagine what things she will experience. Time passes and there are series of murders all around. Thinking over them, she meets a masked man in her bedroom. He tries to tell her something important, but vanishes... Who is he? And what did he want to tell her? Maybe it concerns her lost father?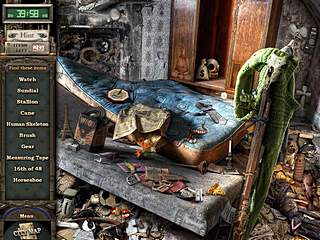 Any way, Cate will cope with such an unordinary task only with your help! You can choose whether to provide her with an immediate help and try to find answers to all her questions at once, experiencing her feelings and understanding motivations. Or maybe you want just to play and enjoy playing. For satisfying both of your wishes, the developers have created two modes: normal (with timer) and relaxed (without timer). Despite of mode choice, you can get a lot of bonuses. For this you should find correct objects in a row withing a short time.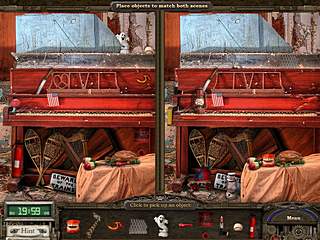 The game consists of several chapters, each of which includes approximately 5 tasks. Not all the tasks are connected with finding hidden items. Such kind of a task is in most cases needed for forging the Velvel Keys, which in turn help to unlock the victims' souls. Another tasks can include guessing riddls, matching the scenes from 2 pictures, collecting a particular amount of the similar items (such as stars or bullets), activating the switches in order to turn the machine for returning a man from dead and many others. Most of all I liked a mini-game, where one should move blocks into different positions so that to advance a velvet key and insert it into a mechanism.
In order to sum up, I would like to say that this game will most of all please those who like detective stories and plots. Because reference to murders and heavy music background will be highly appreciated by the truly lovers of a detective genre.

Download Cate West: The Velvet Keys for Windows.