Cooking Fever - Casual games reviews.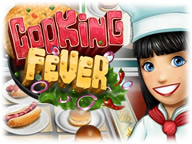 The name of this game - Cooking Fever - is self-explanotary.
It is one of those super addictive time-management games.
Cooking Fever is colorful and fast offering you a lot of challenge and many options to shoose form on your way to success.
You are to choose from 5 different locations or restaurant types.
Those include: Bakery, Fast-Food, Chinese, Pizza and Seafood.
It is the whole range as you can see. I guess it never hurts to love cooking when you are a fan of games like that.
Each restaurant has its theme and kind of food.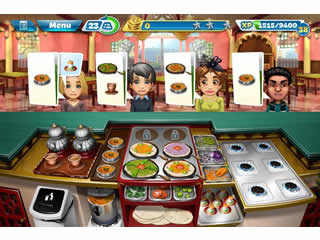 So you can expect a new fresh start every time you move to a new place since you will have to get used to the new dishes and new restaurant equipment and interior.
You are to use your decorative other skills to attract more people and make their experience such that they would want to come back.
There is about 250 dishes to cooking using a hundred different ingredients.
You can share all theese dishes with your Facebook friends too!
The game's colors are very bright and attractive for whatever device you might be using for the game.
The game is a fun time-killer and great appetite provoker for kids who have problems with wanting to eat.
Game Review from Gamemile