Organize the most romantic wedding!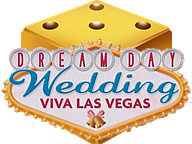 Every girl falls in love with wedding long before this brilliant occasion happens. She dreams about her future wedding dress, beautiful decorations and potential guests. Dream Day Wedding: Viva Las Vegas allows to plan and make a kind of a wedding repetition to those who are not married yet, and recollect and experience the wedding hustle and bustle once again for those, who has already put some wedding pictures on her night table.
The game starts when a couple decides to get married not elsewhere but in Las Vegas. They pack their luggage and make a step closer to their future mutual life. After having arrived to the hotel, they face with the first difficulties: they should find their luggage among the others. When entering their room, they see something on the bed. What's it? Let's open the box! Wow! It's a new cell phone. The bride's mother cared about the couple and brought them this gift so that they could reach each other when it is necessary. But it's only their first present. Imagine how many they will get today! And it's not only presents that will deliver them pleasure: there are a lot of unexpected surprises! If we'll look into the cabinet, there will be a pink envelope. Do you want to know what's inside?! Don't forget that we can't reveal all the secrets! Open it by yourself! And who knows, maybe there is a cruise ticket... Frankly speaking you will be astonished by the reality of wedding atmosphere: classical music, a lot of wedding symbols, the fireworks of hearts and much more. Not speaking about the Mendelssohn waltz and hundreds of flowers.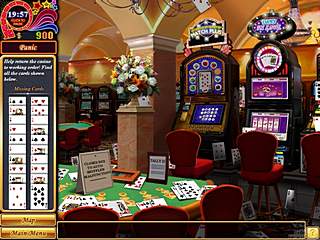 During the hustle and bustle you will have to fulfill a great number of tasks. By the way there will be no similar tasks, except finding the hidden items. Let's ask the main heroine of the game as for the missions she had to cope with: "As you are in Las Vegas, one of the tasks will be returning the casino to working order. For this you will need to find all the cards shown. Be attentive! Because while fulfilling some tasks, you can be trapped. Once I got into a locked room where was no light and had to cope to find a way back. But in this room I found Palladium Points, which I could change for money. Thus I had a chance to make an unforgettable shopping trip. I bought a lot of decorations: table flowers, carpet, chairs... My bridegroom was very satisfied. Certainly I should most of my time prepare for the wedding. But I should not forget about my bridegroom. I decided to prepare something special for him and found a delicious recipe of «chocolate raspberry tart». Certainly I would share this recipe with you in one of the levels".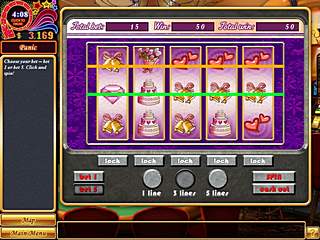 In order to achieve the progress in the game and get more pleasure, you will be given some hints: search for the golden dices. If you collect 5 of them, you will get an extra hint. If you click randomly, you will loose 30 seconds off the clock. Some items can be collected into inventory and used later. Collect the Palladium Points to buy wedding decorations for the Reception Site. You can keep track of your balance.
One of the best features you will for sure appreciate is that you are given an altar and can decorate it as you like. That is where you can show your skills in creative work.