Take care of your tanks with Fishdom Spooky Splash!

Download Fishdom Spooky Splash for Windows.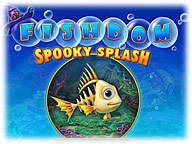 If you have already played Fishdom or Fishdom H2O, you will for sure need not any advertisement for the game. As you already had an opportunity to check whether you like this game or not. But it seems to me that there are no people who didn't like Fishdom series. Still there are people to whom Fishdom game is a new word and because Fishdom Spooky Splash is absolutely new release, let's get acquainted with a new match three game!
The nature of the game is in giving you a chance to have a virtual acquarium. Stop poping up at the show-windows of the zoo stores and start doing something!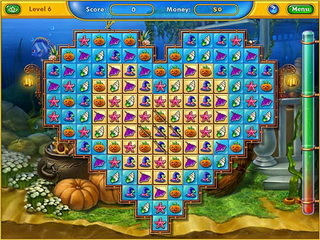 Fishdom Spooky Splash is excellent variant for those who like fish and everything which is connected with them. As in this game you finally get an acquarium and if you do your best, even several. You will fulfill the duties of its owner and designer.
The matter is that there are three parametres according to which you can improve your tank. All they are available in the Shop option. So they are fish, beauty and comfort. As far as you could understand, it means that you should swap tiles to match the same, earn money and go to store for making purchases of fish and things for your tank. There are a great number of fish available, starting from Blue Discus, Clownfish and finally the main and the most expensive Spooky. For tank decoration you can buy the staff like ghost water plant, treasure chest, jack-o'-lantern air pump, acquarium sand and much more. If you have noticed, there are a lot of things on Halloween theme. It's not amazing. As the game is dedicated to the holiday. That's why even its name tells us about something scary – Fishdom Spooky Splash. But don't be afraid. Except these decorations, which by the eay are friendly, there is nothing to be afraid of. In whole the game can be played by the whole family and even with children.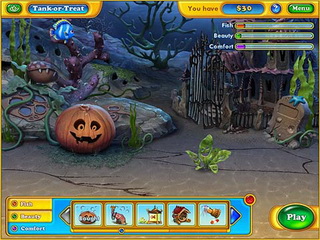 But in order to be able to buy fish or things for decorations, you should of course have money. All you need is match the same tiles and get cash and bonuses! The more same tiles you match, the more bonuses you will get, the more cash you can spend.
The game has some involving features: photo album and screensaver. Aren't they good? It means that any time you like you can take a picture of your tank and watch it some time later. If you don't want to part with it, you can even set it as a screensaver. In this case you will always have an opportunity to check how your little fishy feel.
To summarise, the game is not good. It's perfect! Even for those who prefers another game genres. It needs no additional comments.

Download Fishdom Spooky Splash for Windows.