Fortune FootBALL: EURO 2012 - Absolutist is in the midst of preparation to EURO 2012!

Download from Amazon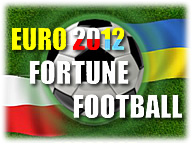 Absolutist launches its free football prediction game Fortune FootBALL: EURO 2012 for iPhone, iPad and iPod.
The new application offers an opportunity to find out what football team will probably win the European football championship of 2012.
The application features 16 national teams of different countries and evaluates their chances to win.
The developers claim that all the predictions are based on the official forecasts of professional experts. All the sports data will be automatically updated from within the game after each match according to the Euro Cup 2012 dates.
The gameplay is quite original and interesting. On the screen menu appears a soccer ball with the flags of 16 national teams.
Rotate the ball to choose a country and its opponent from the official list of the teams. Shake the phone and you'll see a forecast of the match.
When a country loses the match its flag fades and becomes not active. The leaderboard and statistics of matches will be updated immediately after real time games between national teams, as well as forecast data from professional sports analysts.
The idea of the FootBALL: EURO 2012 is to bring together the greatest army of soccer fans to support their national teams.
May be you'll ask, "What football team should I cheer for if my country isn't available?" Well, you are not obliged to support only the country you live in and it's up to you to decide, who you want to see as a winner.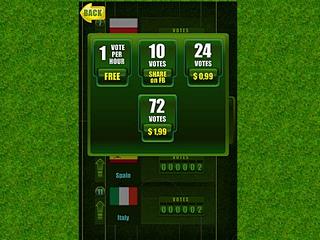 But, as a general rule, victory of a team is defined by active fans and their support.
A special system of voting is created on Facebook and other social media, where you can check and raise the rating of every country and prove it to the world that your football fans are the most active.
Votes can be added for free every hour. Another way to get free votes is to complete some tasks, for example, 10 votes are given for sharing your football predictions with friends on Facebook while rating the app grants 48 votes.
The app can also be useful as a Pro football analyst tool for making bets in bookmakers offices. Though official data from betting companies implemented, user's discretion required.
Each forecast formula includes lots of variables, such as points scored and history of previous games. Give it a try when the tournament begins to get Euro 2012 playoff predictions.
Fortune FootBALL: EURO 2012 may turn out to be the most scandalous football prediction game ever. But, anyway, the game is free, seems to be fun and certainly will become globally famous. It's a chance for everyone to create the football history of EURO 2012. Cast a vote for your favorite team!

Download from Amazon