Jump Robot - meet an insanely addictive arcade game for iPhone/iPad!

Available on the AppStore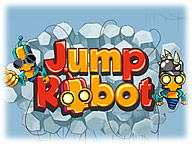 Just start playing Jump Robot and nothing will make you stop!
This is a well crafted platform game with great visuals and motivating soundtracks.
Continuing the best traditions of Doodle Jump and Mega Jump, the main objective of the game is to get as higher as possible.
You can suggest that the game is all about jumping, bouncing back and forth between exploding platforms is an easy task and you've already seen it.
Don't be deceived, it's not that easy and Jump Robot is much more than that!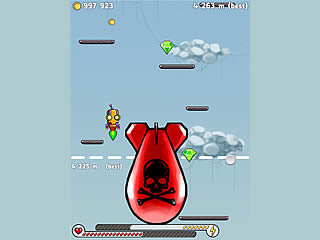 Jump Robot allows to create and develop your own character. Building up your own robot is a feature that will clue you to the screen for awhile.
There are several types of turbo engines, high octane fuel, titan springs and players can even change colors and the whole appearance of their robot.
The game features lots of different add-ons and power-ups. On your way to the Space you'll have to gather coins, gems and lives.
There is a store where players can customize any part of the robot: add engine power, jump strength, strafe, parachute, health, improved replaceable parts and more.
The full version of the game allows players to use additional equipment listed in the store, including magnetic fields and all of other features that add a unique dynamic to the game.
The game controls are not solely via accelerometer. If you tap your touchscreen will be activated jet pack. There are also many customizable things that need user's interaction with the screen.
The execution of the game make it very engaging. Whenever your robot evades threatening objects, the slow-motion effect from The Matrix comes to life.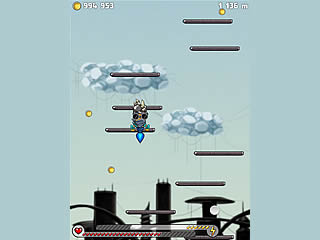 Reach the highest possible point in the sky and share your results on Facebook or Twitter.
More over, there is a global leader board with high scores and achievements.
Every time you start the game, layout of a stage changes.
That's why this platformer will never seem the same. That's why beating even your own score will be quite a challenge.
Jump Robot is a great game for pastime while going by public to work or waiting in a long queue at doctor's office.
Download the game and reach the Space and beyond!

Available on the AppStore