Laruaville 6 Game Review
Laruaville series is one of the cutest Match-3 games out there. Their main characters remind potato head toys and you don't have to be a kid again to enjoy them! Younger players are probably going to love the game, too! Laruaville 6 is the latest release from this series and does not disappoint!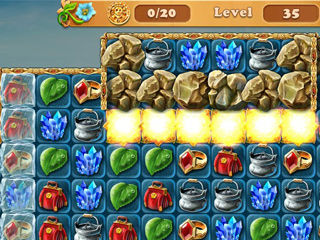 The friendly ghosts are up to another adventure! This time around, they were lucky to find a bottle with a message. The message is from a group of pirates but don't be afraid just yet! It is actually a good message where they tell you about their treasure that they hid but now are unable to use because they are about to die. What a great message to find! This starts your new adventure to an island where the treasures are. The problem with this island (of course, there is a problem!) is that it rises from the ocean once a year for a limited amount of time. And if you put off the treasure hunt for too long, you might be too late.
The game's graphics are crisp and bright. The locations and the characters are very attractive visually, and the music adds to the fun atmosphere. This match-3 game offers you three modes of difficulty: Relaxed, Limited Moves, and Limited Time.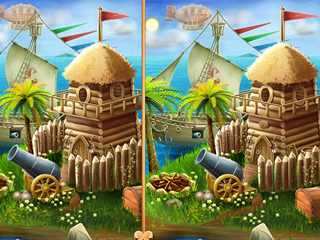 No matter which mode you choose, keep your eye on the coins that you collect by matching three or more tiles around them. As you dig for gold, you are going to come across obstacles that are really worth dealing with if they get you closer to coins. It is nice to be able to use all kinds of power-ups that you can get there.
Match four tiles if you can to receive a dynamite power-up or something just as good. All of them come in handy because you have all kinds of coins, too! Some coins are dirty and need to be cleaned; some are locked and some have keys and need to be connected; some are frozen and need fire; some come in halves that need to be put together and some are molds that need to be filled with gold to give you a coin. Same goes for obstacles. You get to overcome things like Clay, Fire, Rocks, Ground or Ice.
It is a fun new adventure that is not always easy but it is fun from start to finish!
Game review by GameMile.com ©