Maidens of the Ocean Solitaire Game Review
Maidens of the Ocean Solitaire is a wonderful solitaire game in the depths of the ocean. As the fall is around the corner for us, you get to have your last swim in the deep waters and the mermaids get to the party. Quite a few solitaire levels await you in this newly released game.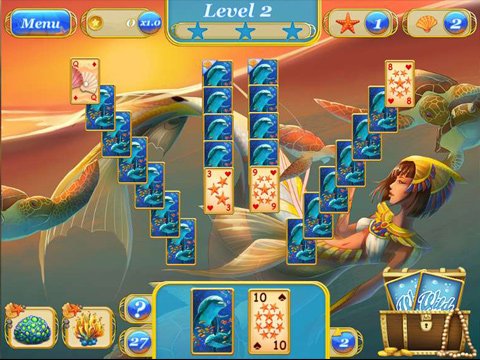 Apparently, there is a time of the year when all the mermaids set out to an aquatic party from all parts of the ocean. It takes quite a while to get to that event. The adventure takes you to 12 different locations before you can get to the party. And you don't want to be late for such a big underwater event.
The audiovisual presentation is very nice with a lot of underwater related sounds and details. You get to play 120 solitaire levels before you reach your destination. The developers promise over 10 hours of play but that, of course, depends on your skills. The game's overall level of difficulty is somewhere in the middle. Not too easy for the more experienced and not too hard for the less experienced.
You are able to make money as you proceed through the game. That money can be spent on the typical solitaire power-ups, like get rid of one cart, undo or wild card. You need to get all three stars at each level and if you fail to do so, you will have to replay the level all over again.
Maidens of the Ocean Solitaire is a great game with beautiful characters and soothing music!
Game review by GameMile ©