Play a puzzle game Mysterious City: Vegas!

Download Mysterious City: Vegas for Windows.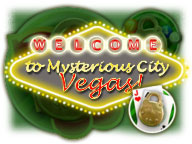 Have you ever been to Vegas?! The game developers company Iwin will astonish you once more again and deliver bright emotions and good mood! As they have created one more hidden object game, in which you can gain a lot of cute wallpapers for your desktop!
The game has a vague story. A vague because it is scattered between the game levels. The first thing you can understand is that the main heroine Dr.Ellis has got into a luxurious hotel as a VIP guest and has something to investigate. She decides to start her investigation from her room. But what had happened and why she is here, you will get to know only after playing several levels. And as it will be found out, she is in Vegas to disclose a thief, who is acting in the expensive casino...
As usual, at the beginning the game offers you to choose one of the 2 modes: relaxed and timed. But frankly speaking there is practically no difference between them as they are both timed. The so-called relaxed mode gives you 130 minutes for passing the levels. I think that for some people it can be not enough.
Generally speaking the game can be divided into the parts or blocks. As at first you are to find a certain amount of hidden objects and then to solve a mini game. There is nothing difficult in looking for them. The task is an ordinary one and there is even no special items, which you have to find before passing to the others. The only variety in seeking the items is to make out the silhouettes of objects. In my opinion, the task is not perfect. Because there can be silhouettes of the similar objects which is really difficult to resemble. For example, you are to find something around. But it can be a ball as well as pizza or something like that. It is inconvenient: you have to guess and for doing several wrong clicks you are even taken off some time. It would be better to make players find shapes of the unique objects even if they are well hidden.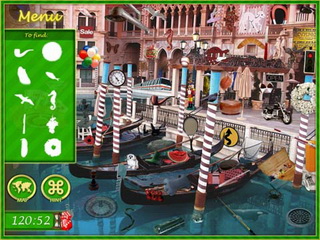 But there are still some pluses. The game is not so boring because of the mini games. Certainly in most cases they are connected to casino. While making progress, you can unlock three main mini games and return to them every time you would like to. Thus, you can choose between Jacks or better (a kind of a video poker), Pingo or Slots Machine. Except them there are some more mini games as well. They represent the tasks where you should find the differences between the pictures or to rotate the pieces in order to make a complete picture.
The game in general seems to be prolonged and it resembles Mysterious City: Cairo. The graphics could not be called perfect and in some cases even good. But the game gives you an opportunity to fill up your stocks of wallpapers and experience in hiding and finding the items.

Download Mysterious City: Vegas for Windows.