Nightmares from the Deep: The Cursed Heart - travel through seas, fortresses, and catacombs!

Download Nightmares from the Deep: The Cursed Heart for Windows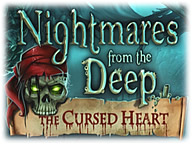 Nightmares from the Deep: The Cursed Heart is a recent release into the hidden object puzzle adventure game.
The game will make many fans of this genre sigh with admiration because of everything it has to offer.
I mean who wouldn't like to hear and kind of be a part of a pirates story with the summer just around the corner?
All of the game play parts fit together very well creating one complete adventure.
The story is not dark and creepy as many games tend to be. The story is mysterious and full of struggle and adventure but it is more like a spectacular thriller story told in a beautiful way.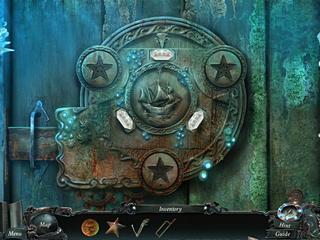 You play as a museum owner whose daughter has been kidnapped by an undead pirate.
That's where the adventure begins. You become more and more involved in this supernatural whirlwind of events as you learn the love story of this pirate and his desparate desire to bring all the pleasure of that love back.
This story will take you to many beautiful locations, where you can see all the work put into the art. The voice overs and music are just as perfectly gorgeous.
The hidden object scenes are very clear and pleasant to work with. You get to be interactive with some of the items before you can pick them up. It's also a bit unusual in that its the first hidden object game I've ever played in which I didn't have to actually solve any hidden object puzzles.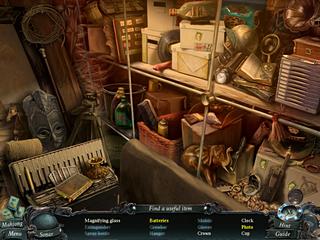 There are a few fragmented object puzzles that can't be avoided, but conventional hidden object scenes offer a choice: you can take them on, or you can opt to play a round of solo Mahjong, the classic tile-matching game, instead. Beat the Mahjong puzzle and you've beaten the hidden object scene.
The mini games are fun to play. Some of them are really challenging, but all of them are very enjoyable both the more familiar ones and the moreoriginal ones.
Both of the mentioned levels don't take you away from the general adventure which is the main focus of the game. It's all put together very well. The Cursed Heart is a fairly impressive production, with attractive visuals, plenty of animations, a nice enough soundtrack and full voice acting.
I think that this game is just what we, the fans of this games genre, need - it is both interesting and beautiful.

Download Nightmares from the Deep: The Cursed Heart for Windows
Game Review from Gamemile