Play an addicting game Rasputin's Curse!

Download Rasputin's Curse for Windows.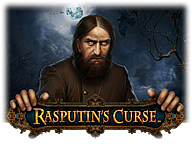 He was considered to be both an influential faith-healer and a religious charlatan. They say that he even had a great impact on the last royal family of Russia and particularly on Tzar Nicholas II. Different nations and cultures are still trying to uncover the mystery of this person. But who was he? How did he get the unbelievable magic forces? Maybe a new hidden object game Rasputin's Curse will help you to find out an answer to this question.
One should obligatory mention that the game plot is incredibly successful. Rasputin is an intriguing person in the Russian history and that's why it's interesting to find out some facts from his life and even life of his descendants.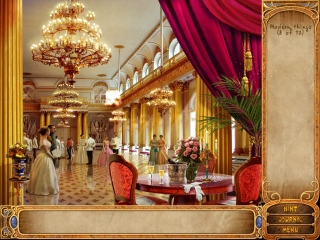 The game begins when a desperate couple, Lorry and Mark, decides to save their marriage that has reached its breaking point. Thus, they are going to have a rest and visit Russia. It happens that Lorry has ancestors in that country. But she even did not suggest who are they. Meanwhile she has the black-outs and hears a voice in her head. Everything around, starting from newspapers and ending with visions, points out at only one person... Rasputin! Is it a sign? What connection an American woman has with him? The story will show...
As was already mentioned above, the game belongs to the hidden object genre. Thus, the main goal is to explore the locations and look for the different items which are listed in a special field. But from recently, the casual game developers try to dilute the hidden object games with some other tasks. So did the developers of Rasputin's Curse.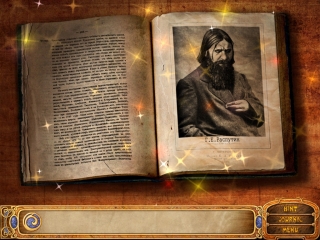 In this game you will also have to complete some mini-games. For example, you are given the torn pieces of a manuscript or something like that and you should collect this scraps into the one whole. You can also be given the components of an object (for example of an answering machine) and you will have to repair it. One more example is the following: you are given five keys and you should open a lock with their help.
The hidden object tasks also differ. Sometimes you will have to find the particular amount of the same objects, for example 10 soldiers or 9 pears. Sometimes you are to find one item per a location. For example, a teddy bear. As a rule such an item is hidden somewhere beyond the field of view. Sometimes you are given the silhouettes of the objects to be found. As you can see the tasks are various.
As the game is fixed upon the Russian person and the main heroine visits Russia, the game itself (and in particular graphics) contains a lot of attributes from a Russian life. I dare to say that it is one of the first games that depict the rural landscapes of the country.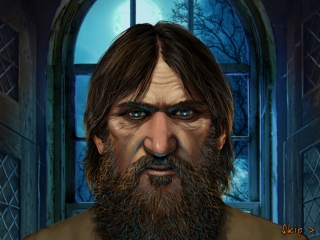 The game players are a little bit bored of the drawn cartoon pictures and city life. They want something new. While Rasputin's Curse combines different elements of graphics. By the way, it also overfilled with the pictures of things one can find only in Russia. For example, valenky (Russian traditional winter footwear in rural areas), Russian officer's cap, samovar and many others. Moreover, there are also books written in Russian. A good opportunity to start learning this language.
One thing that I didn't like is that the locations repeat and you can return to the same area for at least three times. This is a bit irritating.
But the thing I liked much is that the game remind a cartoon. It seems that you are not playing, but watching. Moreover, you are a part of the film as you make some actions and take part in developing the game plot. You will not discover what will be next if you don't find a particular object or solve a puzzle. Thus, play Rasputin's Curse and discover the new facts from life of this fantastic person.

Download Rasputin's Curse for Windows.