Play a detective game Real Crimes: The Unicorn Killer!

Download Real Crimes: The Unicorn Killer for Windows.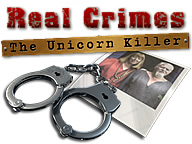 Real Crimes: The Unicorn Killer is a hidden object style game, which resembles Mystery Case Files series. In here you will have to become a rookie FBI agent and solve crimes committed by the cruel murder Ira Einhorn. The most outgoing feature of the game is that it is based on a true not on a fiction story. This gives you feeling of acting as a real detective.
As was already above mentioned, the game is built on a true to life story. Ira Einhorn is a real person, who is known among the people as a "Unicorn Killer". He was a former American activist of the 1960s and 1970s. He is now serving a life sentence for the murder of his ex-girlfried Holly Muddux. He is known to be one of the organizers of the Earth Day, celebrated in 1970. It happened that this particular day became the last for Holly's life. As a murderous villain beat her to death.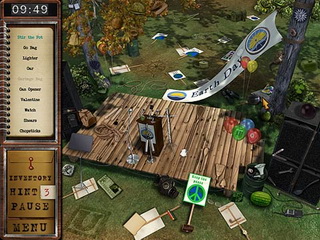 Thus the story was laid as a background for the game. As far as you could understand, you have to transform into a FBI agent Jenifer. Together with her partner, you will get into the times of 1970s and investigate the crime. For this you will travel to different locations and places, where you may find case evidences. Thus the first place to explore will certainly be the park, where the Earth Day was celebrated. Where else to go? Maybe to his apartment at Powelton Village? A good idea. Let's go there and you will find more hidden evidences, such as a murder's personal diary. One more good place to visit is Philly Cafe, where Ira had lunched with corporate executives, revolutionaries, terrorists and even heads of states. As you are a novice in this matter, your partner will lead you to the other locations.
Time from time, you will visit an FBI laboratory to check the evidences and solve mini-games. Thus during your first visit there, you will have to compare the fingerprints you found with those you have of Ira. During another visit, you will have to do some blood work. To be more precise, you will take a look at the blood cells under the microscope, the add the catalyst to the cells to make them change and match the same cells.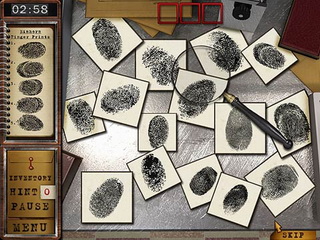 As you see, the hidden object main game has some mini-games. To be honest, most of all I liked. For example to do the lab work. It is the type of mini-games, one can't meet in every ordinary game. Moreover, you get a hint for solving every mini-game. But it is not the only way to earn a hint. You can find some objects written in green at every level. Finding it means finding an additional hint. But don't mix them with the words written in blue. As these items need additional things to be complete investigation. For example, if there is a water melon slice written in blue, it means that at first you have to find a knife and then cut a slice.
In general, the game is of average difficulty and is rather a classic game with no innovations. But the one thing I disliked is that there is no auto saving for the game. It is very inconvenient, when you played and played and finally for some reasons you had to finish the game quickly. And when you return, your progress was not saved. But it seems to be the only negative side of the game as it is really interesting.

Download Real Crimes: The Unicorn Killer for Windows.