Saga of the Nine Worlds: The Gathering
Eipix Entertainment have come up with a new series for you, hidden object puzzle adventure fans! A journey to the Nine Worlds! This first instalment takes to a Nordic kingdom. The whole theme of Nordic gods and mythology has been quite popular for some time already. Let the journey begin!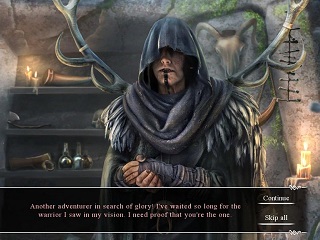 In this new game, Saga of the Nine Worlds: The Gathering you play as a new shield maiden that serves the princess of this Nordic kingdom. Some of the villages in the kingdom are being attacked by a dragon. But something unexpected happens with you on the way to those regions to protect them.
You fall overboard from your ship and find yourself in the gods' abide. It turns out that they don't think it is time for you today just yet (not sure why hadn't they kept you from dying then). They send you back to the world of the living humans to... em... save the world.
You get three companions to work with toward your goal. All three of them have useful skills of their own and you get to explore and assess them. And in the bonus chapter of this CE you get to play on the ship of death that you need to escape.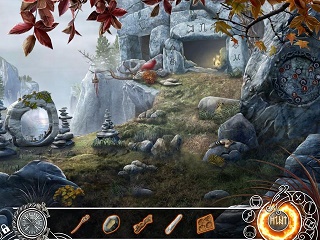 The game is full of the Nordic atmosphere. The scenes seem to be rough and chilly. You can almost feel the cold of the air. The game is full of the Nordic-sounding words and names. But maybe it only does so for someone who has never been there, hard to tell! The game feature a notebook that gives little pieces of information about the Nordic people groups.
The game is heavier on the puzzle side than on the hidden object scenes. Both are quite creative, though and you get to replay them. And the three companions offer another subsection of the puzzles. You can set your level of difficulty (Viking, Marauder, Berserker or Valkrie) and the desired skip and hint time (10-400 seconds and 10-120 seconds respectively). There are 14 achievements, 37 collectable tiles, and 11 morphing objects in the hidden object scenes.
The game is full of downloadable media extras that you can enjoy even after playing the game.
Game review from GameMile.com ©