Subway Surfers - Casual games reviews.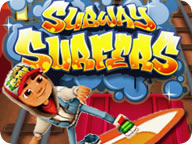 GO GO GO! When the fuzz is after you, you've got to think fast and run hard.
In the hot new game, Subway Surfers, you play the role of a teenager who has just been busted in the act and now has to run away from the police while dodging trains and other dangers in the inner-city subway system.
Run for your freedom and collect coins along the way in this hip new three dimensional endless runner game.
This mesmerizing game with a cute three dimensional cartoon feel will keep you entertained for hours on end.
The controls are pretty simple. If you've played practically any other endless running game, then you can play this one. But, it's not monotonous.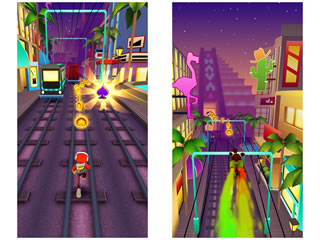 There are three lanes with trains and a cop behind you. You've got to keep going forward if you don't want to end up in the slammer, but watch out!
You might end up catching the business end of a subway train.
Look here, folks, the game is about running away from the cops, but don't try this at home! Just live a clean life. The game will give you all the run-from-cops rush that you need.
Subway Surfers Collect coins and power-ups as you go. The game is free, but you can put real money onto your account to use toward modifying your game play through purchasable power-ups.
This game is certainly not as pushy about having you spend money as some other games are, though.
There are cool little objectives, such as tuck-and-roll 30 times in a game. So, it's not just a game to see how far you can run. If you like endless running games, then you'll love Subway Surfers.
If you think they're kind of boring, then try Subway Surfers. It just might change your mind.