Play an addicting game Virtual Villagers 4: The Tree of Life!

Download Virtual Villagers 4: The Tree of Life for Windows.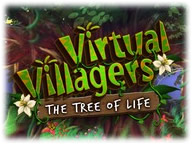 Last Day of Work's popular casual sim game will feed the hunger of the fans of the virtual villagers fans. This time something weird is going on on the island and you are to find out what's the problem. Virtual Villagers 4: The Tree of Life is just as attractive and addictive as its predecessors offering new challenges and new experiences.
The unexplored part of the lush island of Isola may give the answers to situation. Something goes wrong on the island causing animals to disappear and the environment to dry up proving no more food.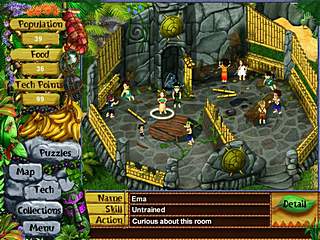 The chief decided to gather a team that would go to the parts of the island which were not explored fully yet hoping to find the answers as well as the solution to the problem over there.
So you start choosing who's going to be on the team of five to start fro the journey. You choose from men, women, and children ranging in years from toddler to middle age. Each has varying strengths in the game's five skill categories: farming, research, building, parenting, and healing. The best option will be a mixture of villagers, some old, some young, some male, some female, perhaps one with a baby (a clever way to quickly and easily increase tribe's population by one), and definitely one child—because kids are the only villagers capable of finding and picking up important artifacts.
If you like the series, you will enjoy the new home of this tribe. The graphics are very beautiful making the exploration process a pleasant experience.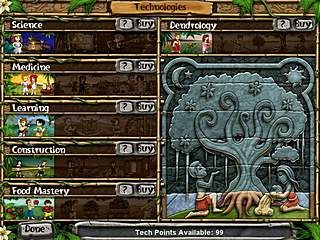 Most of these environmental elements hold some sort of mystery that needs to be discovered and solved. These discoveries take place regularly throughout the game as you slowly work to solve sixteen puzzles.
The game continues on day and night, whether the game is running or not. So don't be surprised to find out what they have accomplished, what mistakes they have made, and who may have died, either through starvation or old age while you weren't there.
But isn't that what makes it so addictive and compelling making you a kind of a parent who wants to take care of them every time it is possible. The game doesn't show any significant flaws looking almost perfect but you can decide yourself on that issue with the help of a trial version.

Download Virtual Villagers 4: The Tree of Life for Windows.