Witches' Legacy: The Charleston Curse - confront the terrifying witch and save the whole town!

Download Witches' Legacy: The Charleston Curse for Windows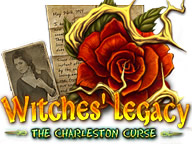 If you played enough hidden object puzzle adventure genre games, you should have learned the dynamics of how it works in this realm.
One of those things is that learning something surprisingly new about your family or distant relatives isn't always a good thing. Witches' Legacy: The Charleston Curse is an example of this principle.
The story is presented with very beautiful and impressive graphics.
You play as the only living relative of an orphan girl. This girl named Lynn has a terrible story to tell about her family that isn't alive any more.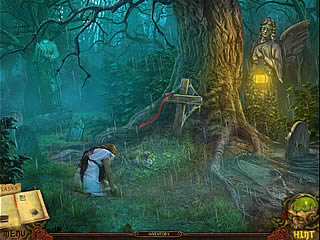 The point of the game is to save the Charleston heiress from her guardian, who turns out to be an evil witch.
As you hunt the witch through the house and the surrounding estate, you collect torn pieces of drawings done by the young girl you're working to save.
Once you've collected all the pieces of a given drawing, the drawing animates, providing not only insight into the story, but clues to the various puzzles you'll encounter.
Seemingly done in crayon, these charming 2D animations are a big departure from the rest of the game's graphics.
It can be replayed at any time by clicking on them in your journal. Both useful and beautiful, they're one of the coolest means of communicating information hidden object games have seen in a long time.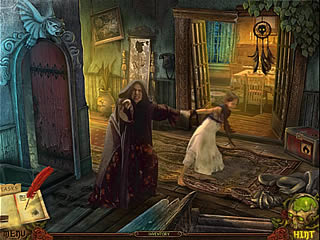 The story is presented with very beautiful and impressive graphics. All the animated details together with excellent audio make it a very enjoyable experience to follow the events of the story.
The games offers you to play the same kinds of levels as many games of this genre. The hidden object levels are a bit cluttered, but most of the stuff belongs to the scene. Several of the items on the list are interactive. The hint system is available but it takes a while for it to recharge.
The puzzles are quite challenging and you might need help to solve them, even thought they are not so new or unique to this game only. The interactive adventure part may not be as obvious too. All in all the game is friendly and smooth enough without extreme gloom-and-doom. Although thematically, Witches' Legacy: The Charleston Curse isn't the most original game in the world, it's still an admirable example of an expertly-made hidden object adventure.

Download Witches' Legacy: The Charleston Curse for Windows
Game Review from Gamemile